Creating a Drum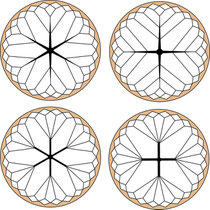 A Shamanic Drum is not simply an instrument, it's a companion: for this reason it cannot be conceived, but just found.
The spirit of the drum,as a matter of fact, already exists, all that is needed is to find it, bring it to this plane and give it a body.

Nobody can find the the spiri of your drum, but yourself, nevertheless, Artemisia will be happy to join you in this journey and give shape to your visions.

Before taking any decision on drum structure and aesthetics, it would be advisable to make a dedicated shamanic journey or ask for a specific dream: after this you can contact Artemisia with your requests and the results of your research.

Together we will consider the best choices to honor the intructions you have received.

Planning the construction of a drum, the main features to keep into consideration are:
- Dimensions: we recommend diameters between 40 and 50 cm. 40 cm, 45 cm and 50 cm are the available sizes.
- Back Weaving scheme (some examples can be seen in the upper image)
- Hide: we normally use natural treated goatskin (non-bleached), so that no chemical substances are used and the natural pattern of the animal hide is preserved. If you desire a drum with a painted image we advise you to ask us for a naturally pale, homogeneus hide.
Other types of animal hides can be requested, however, since this affects strongly the final price of the drum we recommend you to contact us for further informations.
- Wood: not every wood type can be used for the drum frame ,however, if you desire, for symbolical reasons, to incorporate a specific wood, this can be requested for the beater.
- A specific image can be hand-painted on the surface, using natural pigments. The paintings will be realized by a professional artist.
- Addition of semi-precious stones, crystals, feathers, ribbons etc...
All these features affect the drum final price, it is,therefore, necessary to request a personal quote.
There are two types of drum beater available:
- The Basic Beater
- The Customized Beater : this type of beater is made with true leather and has an handmade wood handle; it also includes the possibility to choose the wood type and the color of the leather. The price can vary if further personalizations are requested (such as semiprecious stones inclusion, feathers or the hot embossing of symbols on the handle).