Handmade Shamanic Drums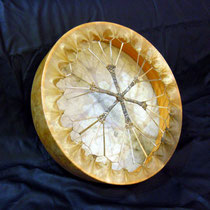 We delight in realizing Shamanic Drums with natural treated goatskin, using ancient techniques from indigenous traditions.
Dimentions and back handle weaving can be customized on request.
The Shamanic Drum is a strictly personal instrument, for this reason every drum is unique and we strongly encourage our clients to keep in contact with us, to share the results of Journeys, Dreams and Visions, so that we have the best possible guidance in creating their Drums.
We also realize various types of drum beaters and a faux leather drum bag.
Drums are usually made to order,contact us to receive information about how to place an order, prices, shipping, and much more.
For informations about Drums technical characteristics and features, and to learn more about the integration process of Journeys, Dreams and Visions in drums creation you can go to this page.